Capabilities and Business Assessment Summary
With over 72 years of combined experience in the global Pharma, CRO, BioTech, Medical Device and Diagnostics industries, RxCel Partners has the intrinsic knowledge and experience to execute, support and/or coordinate efforts in the following areas:
Corporate and business strategy assessments and due diligence

Service/product delivery efficiency and productivity review

Management and leadership search services

Competitive differentiation and expansion

Start-up and turn-around businesses

Chapter 11, restructuring and emergence

Recommendations for optimizing performance, profitability and accelerating growth

Management team capability assessment

Strategic portfolio investment assessment and prioritization

M&A:

Acquisition target identification, qualification and assessment

Merger strategy development and implementation

Post-merger integration
Throughout our respective careers, we have worked with multiple large global and small companies as well as Board of Directors and investors. Our approach for any project is targeted towards a primary goal of being able to identify high-level and key factors that are inhibiting growth and profitability of the company as well as key areas/opportunities that exist for business operation and strategic growth while improving operational efficiency. We follow a step-wise approach in our work, starting with a high-level assessment followed by conducting in depth investigations of companies or investment opportunities. The systematic approach that we take is aligned with the following proven methodology.
An example of our approach towards a high-level review of the "Assessment" phase of the process is shown below. For more information on each step, click below:
For more information on the process steps click below: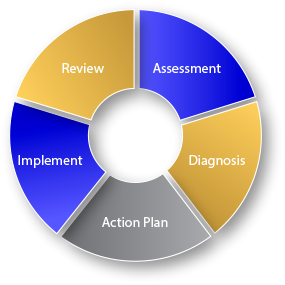 + Documentation Review
First Priority
Current Business Plan

CEO perspective of current challenges and threats to achieving current FY budget

CEO perspective of strategy going forward

Financials three previous years and budget for the current FY

Current FY revenue projection plan

Top 10 clients/customers by business segment last three years and current FY

Annual recognized revenue from each, or percentage distribution
Second Priority
Organizational charts

Bios of the top three levels of management and other key employees

Marketing and competitive differentiation message

Document describing sales process and staff

Description of Important Partnerships

Pricing methodology

Description of any planned cost drivers for current FY and impact

Annualized staff turnover by dept for past two years (voluntary vs. Involuntary)

Any recent Client or Regulatory Body audits
+ On–Site Research
One-on-One Meeting
Strategy
Current strategy and comments
Critical issues facing company
What needs to change quickly
What would be on the 100 day to do list
Organizational Assessment
Review of Corporation and Individual Goals and Objectives
Review of HR systems
Leadership team assessment
Depth of expertise
Knowledge, capability and capacity gaps
Performance appraisal and incentives
Communication channels
Employee satisfaction
Use of consultants
Business Development, Sales & Marketing
Sales focus by business line
Structure and BD Exec assignment
Sales Support Processes
BD Exec incentive plan and individual goals/expectations
Marketing strategy and competitive differentiation
Commercial Metrics and Customer satisfaction measures
Strategic partnerships, alliances and relationships
Opportunities for Differentiation
CRM assessment
Financials
Overview
How to accelerate growth and profitability
Identification of any major Capital/Investment requirements
Utilization metrics and systems
IT
Operational systems/Technology assessment
Robustness, back-up/redundancy/business continuity
Key vendors and relationships
Facilities
Costs, leases, optimization, personnel, regulatory observations